Alignment of Initiatives, Programs and Practices Guide
In many districts and schools, educators are faced with the challenge of having to implement, sustain, and evaluate several different innovations, initiatives, programs or practices at the same time. District and school implementation systems must be organized in a manner that is highly strategic, efficient, relevant, and effective.
Ensuring sustainability and efficiency requires heightened attention on knowing what is being implemented across the system and the effective alignment and coordination of the systems that support the implementation including leadership teams, evaluation structures and professional development. 
The purpose of the Technical Guide for Alignment of Initiatives, Programs and Practices in School Districts is to provide a structured alignment process with concrete steps to assist educational leaders as they:
Examine current practices across schools, programs and systems (instruction, support, improvement, special education, mental health, justice);
Consider the extent that current practices are implemented with fidelity and produce meaningful academic and social/behavioral outcomes, and
Establish support systems to select install and implement new practices.
Source: https://www.pbis.org/Common/Cms/files/pbisresources/Alignment%20Brief.%20for%20posting.1.16.17.docx
Practices
MN Centers of Excellence: Pyramid Model
The Minnesota Centers of Excellence (MNCOE) work to provide early childhood special education practitioners professional development that equips them with evidence-based knowledge, skills and supports necessary to be effective in working with young children with disabilities and their families.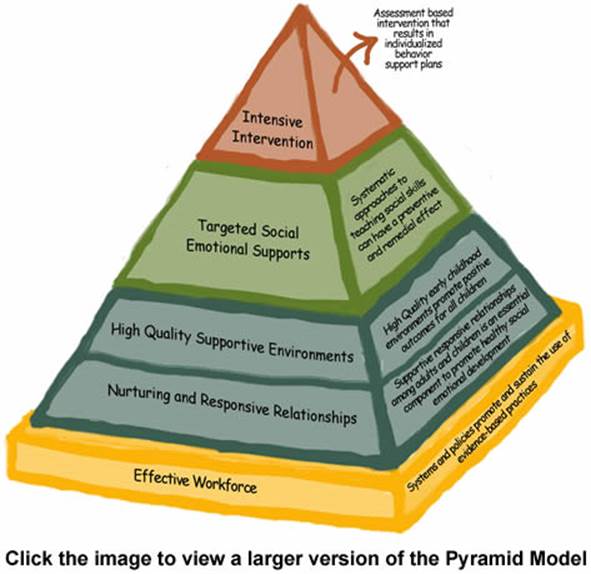 The Pyramid Model for Supporting Social Emotional Competence in Infants and Young Children is a conceptual framework of evidence-based practices developed by two national, federally-funded research and training centers: The Center for the Social and Emotional Foundations for Early Learning (CSEFEL) and TACSEI. These centers' faculty represent nationally recognized researchers and program developers in the areas of social skills and challenging behavior. Based on evaluation data over the last eight years, the Pyramid Model has shown to be a sound framework for early care and education systems.
MN COE contact page here: http://mncoe.org/contact